;
Yoda a 14-year-old Chinese Crested Chihuahua mix won the title as this year's World's Ugliest Dog at the Sonoma-Marin Fair in Northern California.
Yoda was found abandoned by its owner Nicole Schumacher behind her apartments and she was frightened by the dog's unusual look and initially thought the dog was a large rat.
Yoda wowed the judges with her short tufts of hair, protruding tongue and long hairless legs to win the title in this dog eat dog contest.
Competition was competitive this year with last year's winner a one-eyed Chihuahua named Princess Abby also in the running but Yoda edged ahead this year to grab the title.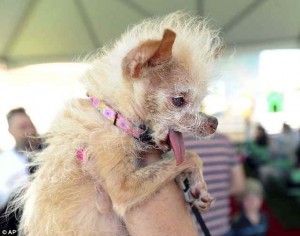 Chihuahuas'  appear to have the competitive edge after winning the title in 2007 and 2008.