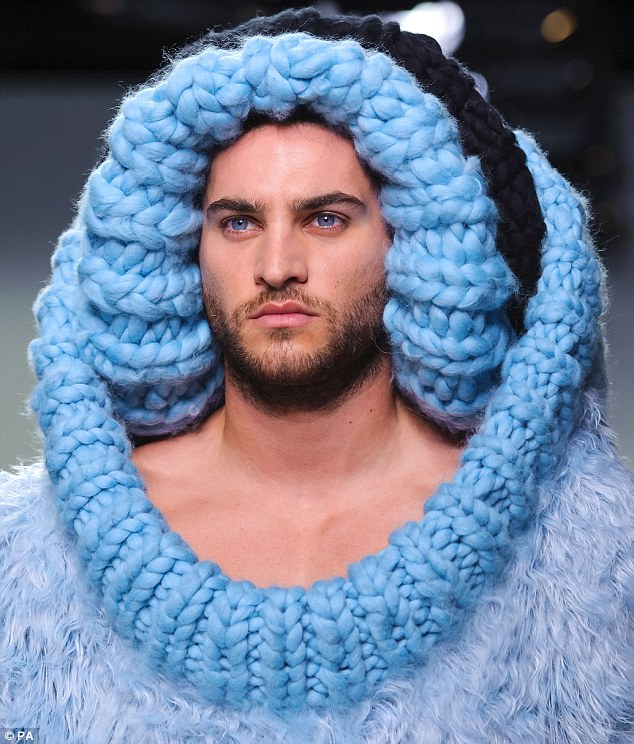 Knit wear and planks were all the rage during the bizarre start to men's fashion week in London.
Knit wear made a big appearance with male models wearing huge super-sized hats, scarves and gloves, many so big that model faces were barley visible. A Few of the knitted jumpers had 'Please Kill Me' spelled out in flowers on the front of the catwalk. The Sibling Brand was started in 2008 to give knit wear for men an old fashioned shake-up and some English humor. Sibling's show was a collaboration between designers Joe Bates, Sid Bryan and Cozette McCreery.
Their show comes after a less than traditional start to the London show yesterday with bizarre hats made out of wooden planks, models with 'blacked out' faces, and some ankle swinging sportswear among some of the truly outlandish designs which kicked off Men's fashion week.
Martine Rose's A/W 2013 collection took inspiration from the traditional pub with garments made out of beer mats and bar towels.

Model David Gandy who is a British Fashion Council member said he wants to make London the menswear capital of the world. The ambassador for Men's Fashion Week said the event would be 'bigger than ever' this year.
Gandy said that he believed London was 'number one in the world' in the fashion stakes adding that fashion was a nine 'billion dollar' industry in the UK.