Michael Phelps has scored 18 gold medals over his lustrous swimming career and now he's scoring with his new girlfriend of 5 months model/actress Megan Rossee. Phelps has been very guarded with his love life but on Monday the couple attended the Speedo Athlete Celebration at Kensington Roof Gardens in London.
Rossee  a 25, year old 5'9 blond from Los Angeles  hasn't been shy about posting photos of the lovebirds on Instagram and has tweeted (@MeganRossee) many candid shots over the last month.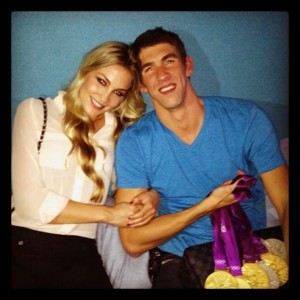 "I am super easy going and pretty much down for any type of project (that doesn't involve nudity)," she wrote on her Model Mayhem profile. "I love what I do and hope to further my career as a model as well as a performer." 
"This summer has turned out to be very busy for me, so I am no longer accepting [modeling opportunities] unless hair/makeup or wardrobe are provided, or if the project is something my portfolio is lacking," she wrote.
Posting a picture of herself pushing a baby carriage on Instagram in June. "Haha," she joked. "Maaaybe 5-10 years down the road."