;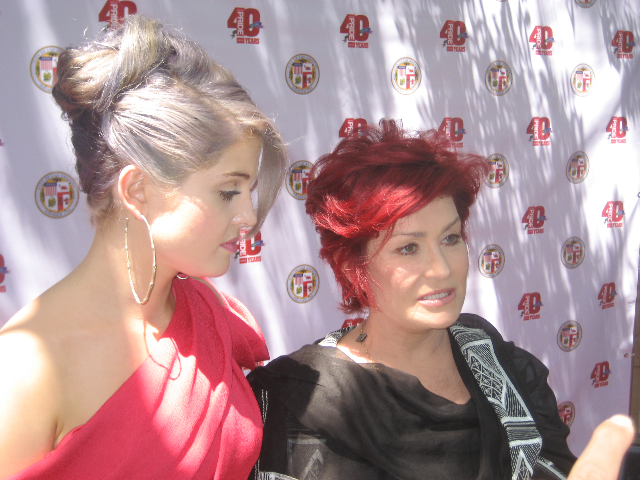 Pop Singer Dannii Minogue 38 reveals in her new autobiography while on the British TV show X Factor her fellow judge Sharon Osbourne made her life a living hell. On the very first tapping Sharon came into Danni's dressing room as she was having her make-up finished Sharon began to berate Dannii she reveals.
Sharon burst in, wearing just a dressing gown. Dannii recalls: "Sharon snapped, 'All this b****cks in the press is ruining my life. You could be telling them I'm a nice person but instead you're adding fuel to the fire by saying nothing.'

"I told her: 'Sharon, I've never said anything bad about you, and I wouldn't say anything bad about you.'

"But she didn't seem interested. 'I don't need this!' she squeaked. 'I'm a mother, for f***'s sake, do you think I need all this s*** in my life?'

"I tried reasoning with her. 'Sharon, they are just stupid press stories about a non-existent feud. All I've ever done is tell people how much I admire you but they don't want to print it.'

"'Oh, don't play the innocent,' Sharon spat. 'Cos if you wanna play games, Missy, I'll play… don't you worry, I'll play!'

I froze in my chair as furious Sharon came towards me
"I turned to look at my friends Terry and Mark, whose mouths had fallen open in horror. Then I caught a glimpse of my make-up girl Karen, who was frozen, holding a mascara wand in mid-air.

"By now Sharon – the 2006 Celebrity Mother of the Year – was screaming at me, furiously.
At the end of the series Sharon quit the series and Dannii decided to stay not really knowing what had happened between the two of them.
As expected after hearing Dannii's pronouncements in her auto-biography regarding her mother Kelly Osbourne took to twitter to blast Dannii.
"The best thing to happen to dannii's career was that my mother hated her she needs to shut her mouth and concenterate on motherhood!

i will be the first one to admit that my mother did not play her cards right when came to dannii but trust me when i say dannii is the devil

dannii you are so lucky that i respect simon enough to not tell the truth about what really happened. wa wa wa you poor middle aged victum

to the 12 dannii fans out there i ask you this question what would you do if someone wrote a book of lies about your mother?

sorry i have just had to deal with this bullshit 4 years and i have kept my mouth shut but i am sick and tired of her lies enough is enough".
Wow….Who do you think is telling the correct version of their dispute?