;
For Kiss frontman Gene Simmons his reality with partner of 28 years Shannon Tweed is unraveling as she walks off the set of an interview with  "The Joy Behar Show" which will air Wednesday evening.
On a "Today Show " appearance earlier that morning to promote their reality show "Gene Simmons' Family Jewels" Tweed admitted the couple's relationship was coming to an end.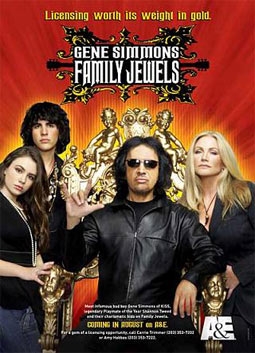 In a promo for their reality show Shannon says, "He's a pig and I don't like it," said Tweed. "And I'm done. I'm f**king…"as her voice trailed off. Later, she continued, "I'm tired. I'm tired of his life," referring to Gene's regular "business meetings" that involve other woman.
On  the Behar show Tweed's anger boils over with her eventually leaving the set of the interview.
"It sounds like you have been together a long time," said Behar, "and you [Gene] have your philandering ways, is that what I'm hearing?"
Shannon: "I like that word."
Behar: "Is it true, Gene?"
Simmons: "There have been," he admitted.
Bahr: "Are there any now?"
Simmons: "Not right now."
Behar: "Not right this minute because you're here."
Tweed: "In what, the last month, would you say"
Behar: "In the last month?
Simmons: "No."
Tweed: "Congratulations."
As talk returned to the status of the TV series, things escalated even further: Simmons said "I think she [Tweed] just flipped me the bird…I'm not sure."
Behar asked Simmons how his back was.
"My back is good," replied Gene. "My schmekel…not so much."[schmekel is Yiddish for penis]
"That's very nice of you to make a joke about it," said Shannon, slapping Simmons on the shoulder and telling him to "f**k off."
"It's so rude of you to joke about it,"  Tweed then proceeded to take her mike off and leave the set.