;
Pop culture and fine art experienced a modern mashup Saturday evening (July 7) in Laguna Beach.
The grand diva of the television reality show franchise "The Real Housewives," Vicki Gunvalson, attended the VIP opening night of the Pageant of the Masters, browsing fine art exhibits at the Festival of Arts before watching the show's premier with other special guests.
Gunvalson, the only original star of The Realhousewives of Orange County that began in 2006, looked radiant in a flowing creme-colored gown.
The always-energetic businesswoman, mother of two and recent grandmother was engaging, warm and friendly – even stopping to talk with fans and snap photos with them.
Always dressed appropriately for the occasion, Gunvalson sported smart bright orange heels to celebrate the 80th anniversary of the Pageant of the Masters, an annual tradition that began in the midst of the Great Depression in 1933 when Laguna Beach artist Lolita Perine persuaded locals in the seaside artist colony to dress up and pose behind makeshift wooden frames to re-create famous works of art.
Since that historic moment, the unique and enduring Orange County tradition has become world renowned.
Several guests accompanied Gunvalson as she joined hundreds of other VIPs across Southern California to the premier of the 8-week arts experience that features approximately 90 minutes of "living pictures" complemented by an orchestra, narration and vocalists situated in an outdoor amphitheater in awe-inspiring Laguna Canyon.
This summer's theme is "The Big Picture" and features art that prominently inspired some of Hollywood's most enduring film classics.
A unique moment during the premier performance showcased the glam of Hollywood awards season with a blonde woman dressed in couture steps out of a classic car to the flashes of the papperazzi before accepting a statuette in front of adoring fans.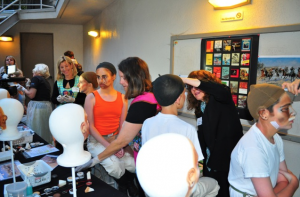 Gunvalson would have been ideal in that role in successfully bridging the modern sheer star power of the hit series of The Real Housewives with the classic works of fine art.
She is the grande dame of the new generation fascinated and obsessed with pop culture.
And that deserves her signature exclamation: A big "woo-hoo."
_________________
Pageant of the Masters
Where: 650 Laguna Canyon Road in Laguna Beach, Calif.
When: 8:30 p.m. through Aug. 31
How much: $15 to $220
Call: 949-497-6582 or 800-487-3378
Website: pageantofthemasters.org
Twitter: @FestivalPageant