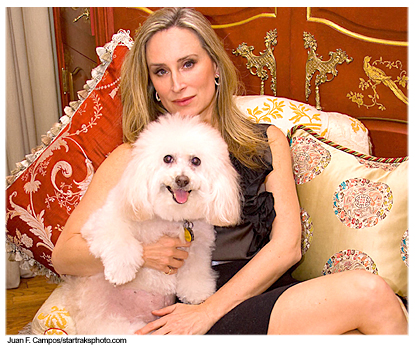 We know RHONY's Sonja Morgan, 47, has a taste for luxury but she was forced to file Chapter 11 bankruptcy after being sued over a failed movie venture that was to star John Travolta.
Part of Morgan's financial woes also stem from her never ending divorce settlement that ex-husband John Adams Morgan, 80, who  is delaying a $3 million divorce judgement and $300,00 in alimony.
Sonja said, "I'm sure the world thinks,"Sonja doesn't have to worry, she's got that husband there for her.' But I'm on my own." Her husband has delayed payment of the settlement stating through his attorney that the settlement exceeds their pre and post-nuptial agreements.
Sonja's ex-husband family owns J.P. Morgan and for someone who lives on a $19 million private island Sonja feels her husband is being stingy. With her divorce settlement delayed Morgan says she may have to sell her $6 million Upper East Side home in NYC for some needed cash.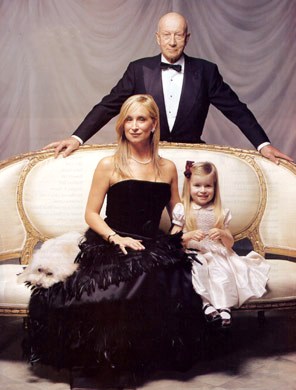 A source told E News Sonja who earns $275,000 a year as a cast member on the RHONY. "She wants to sell it back to her ex husband, so she can make that money off it and her daughter can live there, but he's refusing says a family friend."
Morgans financial problems started when she created Sonja Productions to produce films. "I woke up one morning and decided to be a movie producer. I put a slate of five movies together, and I started Sonja Productions. I had a movie come out with Forrest Whittaker and Gabrielle Anwar, and we got two awards, and it was on a roll. And then one of my movie deals, it was one big misunderstanding, and then they sued me and I wasn't adequately represented, and I lost. That's ok I'm a survivor. I'll be fine. I'll take care of Sonja. What goes around comes around, and the universe always gives back. And I'm such a giver."
Morgan hopes to capitalize on her RHONY fame and brand herself as her former cast member Bethenny Frankel has selling her Skinny Girl brand for $150 million.