;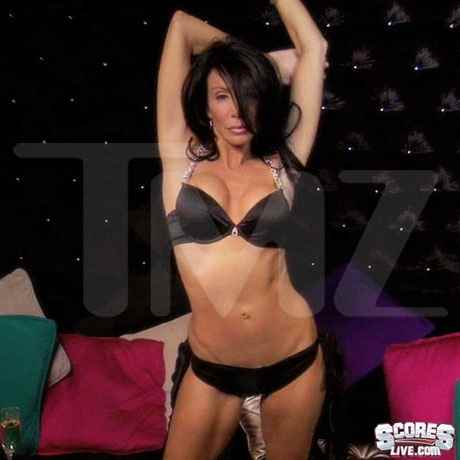 Ex-New Jersey Housewife Danielle Staub, 48, revived her stripping career by signing a 3- year deal with Scores Gentleman's Club in New York and to occasionally appear on ScoresLive.com.
To promote  her new corporate career Danielle released  photos of herself hard at work on the pole. Only days after signing the contract Staub has decided to retire from stripping and is seeking treatment for psychological issues stemming from sexual abuse and suicidal thoughts.
"I have addictions with love and low self-esteem, and I need help!" Danielle told People.
"My low self-esteem derived from childhood sexual abuse has messed with my mind and self-worth, and over the years I thought about getting help but pushed it deep into the depths of denial," says Danielle. "For years I have had the suicide hotline on my cell phone and would like nothing more than to free myself from this constant pressure."
If doing a sex tape wasn't going far enough that was released while on the RHONJ, Danielle said, "seeing how I have hurt myself and my family this time, I can no longer push it behind me."
Staub is seeking help with celebrity therapist/doctor Dr. Drew Pinsky and says she was coaxed by her agents to sign the Scores deal but says, "I have to own my mistakes and can't blame others."