;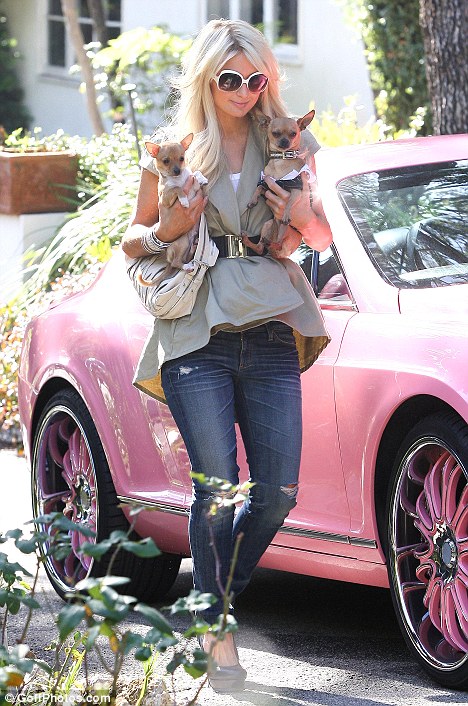 And if we ever suspected that Paris Hilton secretly wanted to be Barbie, then this pictures are all the proof we needed.
The hotel heiress was snapped arriving back at her Beverly Hills home and looked every inch like the little girl's doll with her long blonde hair, bling and bright pink car.

Barbie would be proud: Wearing big white-rimmed sunglasses, Paris Hilton parks her pink Bentley and heads inside her LA mansion clutching her tiny pet dogs
Paris, who turns 30 next month, returned from a day out in Los Angeles, clutching her pet Chihuahuas Peter Pan and Tinkerbell.
She wore skinny blue jeans – ripped on purpose, naturally – towering platform heels, huge white-rimmed sunglasses and a grey top held together with a big black belt.
She'd even blinged up Tinkerbell who wore a pin-striped top and a diamante collar.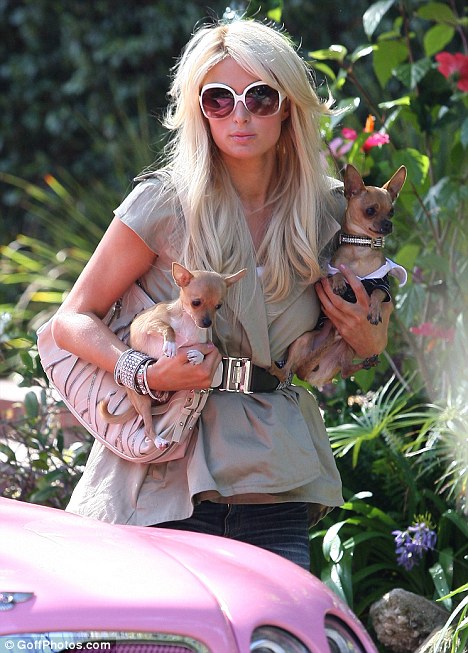 Blinging blonde: Paris checks that her pink car is ok as she heads into the house flashing her designer clothes and jewellery
But it was the pink Bentley Continental GT. that really stood out as the ultimate Barbie accessory.
Paris treated herself to the $200,000 (£135,000) vehicle as a Christmas present in 2008.
The cherry blossom pink is also on the sheet metal, grille, hubcaps and most of the interior while her initials in diamonds – pink, of course, adorn the seats and the bonnet.