;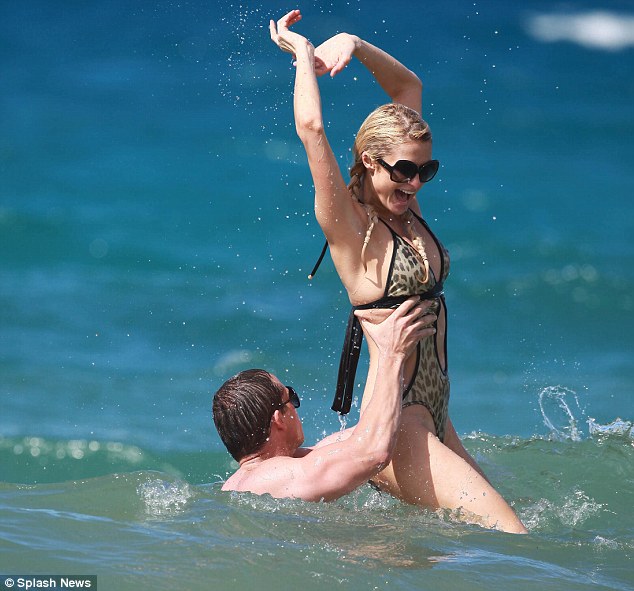 Paris doesn't seem to have a care in the world as she and new boyfriend Cy Waits landed in Hawaii for a romantic vacation.
According to Daily Mail Online:
"29-year-old Hilton looked stunning in a floppy black sun hat and a cutaway leopard print one piece which showed off her toned and tanned body to perfection.
And in true Hilton style the socialite spent a good deal of time preening and posing for the cameras – striking a number of poses as if she was working on a photo shoot rather than relaxing on the beach.
If Hilton is worried about her recent Las Vegas bust for cocaine possession she certainly isn't letting on, with a smile permanently plastered on her face.
Hilton has been tweeting up a storm since arriving on the paradise island. Saturday night she tweeted: 'Cooked a delicious lasagna dinner for my love and watched a movie. Now going to bed. Sweet dreams everyone. Xo Paris.'
Then on Sunday Hilton tweeted cheerfully throughout the day: 'I Love Scuba Diving – Look a rainbow for good luck,' she wrote. 'I felt like Ariel the little mermaid under the sea today. So much fun!…I love Maui.'
She didn't just frolic with her boyfriend though, Hilton also took in a little culture – hitting up some local art galleries: 'There are so many amazing art galleries in Maui,' she wrote. 'I love it!…so many unique pieces of work.'
She has been charged with felony possession of a controlled substance, 0.8 grams of cocaine.
The socialite could face four years in prison if convicted."