;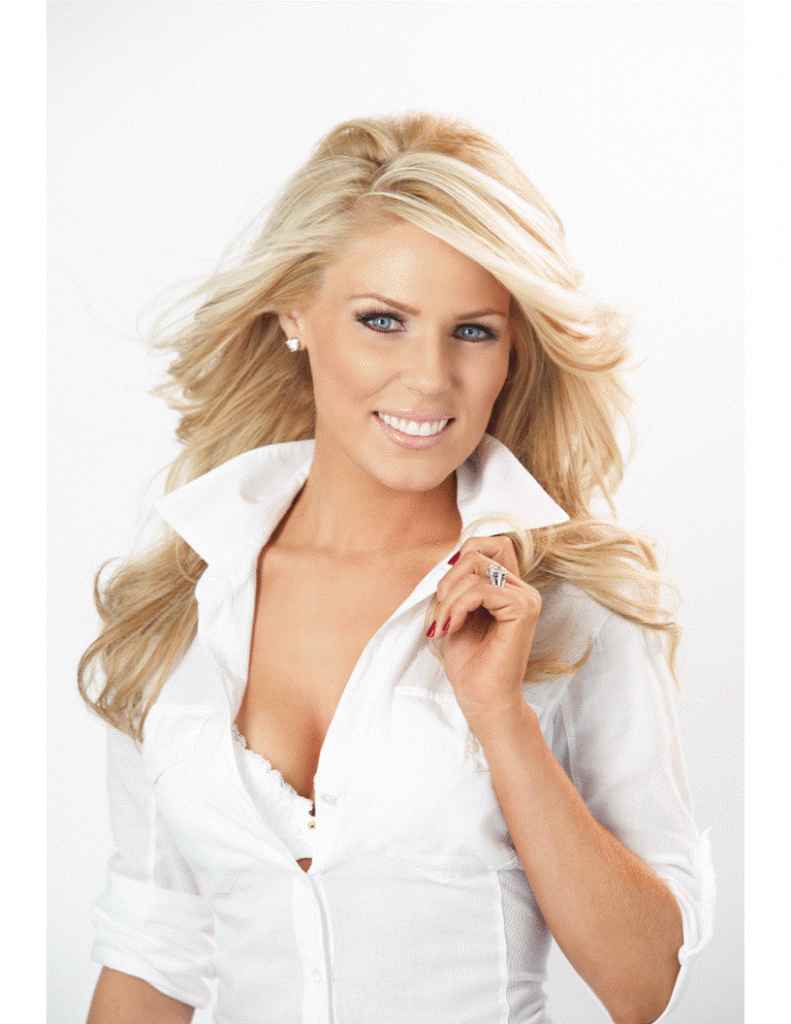 OC Housewife Gretchen Rossi and boyfriend Slade Smiley are being sued in Orange County Superior Court by the stars former make-up artist and business partner RonAnn Meyers over their Gretchen Christine Beaute makeup line.
Meyers is suing Rossi for breach of oral contract, fraud/deceit and for cutting her out of the makeup line they created together. RonAnn is asking for $100,000 in damages alleging she came up with the idea and was to be equal partners with the reality star.
Gretchen responded on her blog (below) that Meyers was trying to "shake her down" and said her former make-up artist abandoned the business until their beauty line became successful.
"Since I have received so many questions from the media, and questions from my loyal fans and followers regarding the recent claims against Slade and I, with the assistance of our Counsel here is our formal response to the allegations being made.
Ron Ann Myers' claims are false and nothing more than a transparent attempt to extort a settlement out of someone in the public eye. Although Gretchen works with many talented make-up artists on a weekly basis, she decided to involve Myers with starting her make-up line. At that time both contributed equal amounts of $5,000. A single product was ordered as a test sample. The women divided the product 50/50. As conversations about working together progressed, a written agreement was extended to Myers by Rossi. Myers refused to sign the agreement. Over the next week or so, Rossi and Myers encountered extreme difficulties working together. At this point, Rossi e-mailed Myers, rescinding the original offer to partner together.
In the e-mail to Myers, Gretchen offered to return to Ron Ann her $5,000 and asked her to return the product, since it had Rossi's name on it. Myers responded in a recorded voicemail, saying, and we quote, "I appreciate your e-mail, I understand, I hope you got mine." "You don't need to pay me $5,000 back, that's not necessary, and as far as the product goes, don't worry about it, I will take care of it." Thus, any relationship between Rossi and Myers ended. After several e-mails were sent regarding the termination of the relationship and the need to close the once joint bank account, Myers has refused to respond or communicate with Rossi or Smiley in any way. After several attempts to contact Myers with no response, Rossi closed the account due to it being charged monthly fees and has held the funds in trust.
For 18 months, Ron Ann Myers has abandoned the company, has made no attempt to contact Rossi or Smiley, and has never participated in any future development of the line, its website, its marketing, or promotions. Myers never contributed anything other than the original $5,000, and then kept the product in lieu of payment. Rossi has invested an exorbitant amount of time and money to build her brand and make-up line.
In March of 2011, Myers suddenly appeared again. After seeing the results of Rossi's hard work, and the numerous articles written about Gretchen and the success of her make-up line, Ron Ann Myers demanded that Rossi and Smiley offer her a substantial position in the company or a settlement; otherwise, Meyers threatened Rossi and Smiley with public embarrassment via the media and press.
Since Ms. Rossi and Mr. Smiley have nothing to hide, and certainly did not embark on an elaborate scheme to defraud Myers, they will defend all allegations, and will do so in an aggressive manner to protect the good name of the company Ms. Rossi has built. Rossi and Smiley have always conducted business in a fair and legal manner, and they are more than prepared to fight these false claims and seek any and all damages and expenses incurred in doing so from Ms. Myers."
Gretchen/her attorney adds, "We find it sad that people are willing to do almost anything in an attempt to profit off the hard work of others."