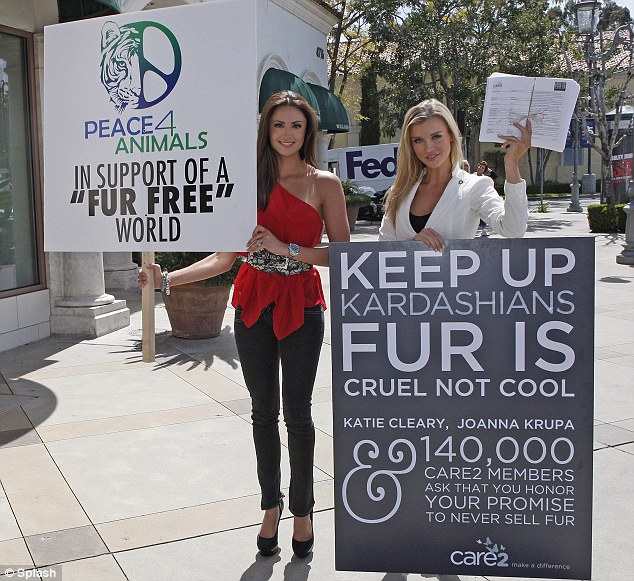 As animal advocate group Care2 members were protesting the wearing and selling of fur at reality star Kim Kardashian's Calabasas (Los Angeles) clothing boutique Dash, Kim her sisters and mother Kris jetted off to the Dominican Republic to film their reality show.
Models Joanna Krupa and Katie Cleary were the face of the fur protest along with comedian Andy Dick who joined the ladies to present the Kardashian sisters with a petition from 140,000 Care2 members asking them to stop selling fur and for Kim to stop wearing fur.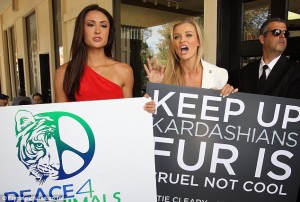 It's easy to see why Kim might not have wanted to be present for the protest, given that she not only loves to wear fur, but was flour-bombed during an initial protest just over a week ago.
In a statement to RadarOnline.com, 32-year-old Polish American model Krupa said: 'One of the most influential families in the entertainment industry that could help give animals a voice on a large scale are the Kardashians.
'As a fashion-forward family with their clothing line in stores all over the US, they have the power to influence millions of people around the world.'
Kim and family arrived back in Los Angeles last night to re-launch their store Dash to Melrose Avenue in West Hollywood.
 'This weekend Kourt, Khloe, and I all met with designer Jeff Andrews to start working on the new DASH LA store.
'Since we've opened DASH stores in Miami and NYC we decided that we want to re-vamp our west coast store and open a brand new LA location!'
"PETA has tried everything from polite letters to public protests, but Kim Kardashian has not been moved by the news that animals are beaten, electrocuted and even skinned alive for real fur garments," a PETA spokesman shared with TMZ. "Whoever threw that flour may reach her when our polite appeals did not."
As a self-described animal lover and dog owner, how could she continue wearing fur — the very same fur from the slaughter of innocent animals? Not wearing fur would speak volumes and dispel the public's notion of Kardashian's beauty as only skin deep.