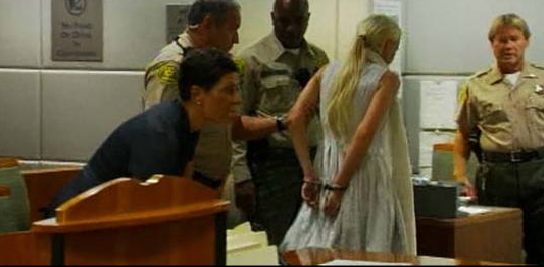 Lindsay Lohan arrived in court today for her probation hearing with Judge Stephanie Sautner wearing a conservative wedding white chiffon dress with matching scarf and exited the courtroom in Los Angeles with designer cuffs.
Judge Sauner revoked  the actresses probation for not completing her court ordered community service at the Downtown Women's Center and subsequently being thrown out of the program for not showing up 9 times. Lohan told her Probation officer she didn't find the Women's Center "fulfilling".
Lohan is to appear November 2nd for a hearing to determine sentencing for her probation violation where she could receive up to a year and a half in jail.
Before her hearing the judge ordered Lindsay to complete 16 hours of  service at the Los Angeles County Morgue.
The 'Mean Girl' star's bail bondsman will appear in court shortly to bail her out.