;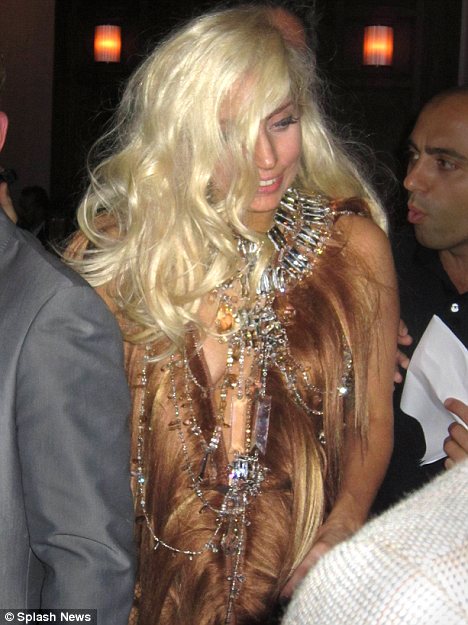 According to the Mail Online:
Lady Gaga is no stranger to randomly popping up in small pubs and bars and last night she performed a surprise gig in New York City's Oak Room.
The singer strolled into the tiny bar half naked with only a cape made of hair and fishnet tights to cover her modesty.
A spokesperson for the bar told the MailOnline: 'There were no tickets sold, she sang three songs as a surprise gig because she's friends with the musician we have on Wednesdays, Brian Newman.
'She stayed for about an hour but photos were not permitted. Her entourage watched out for that and flashed a light at anyone taking pictures.'
The bar updated their Twitter page just before Gaga's arrival, posting: 'Lady Gaga here tonight. Maybe we'll get a serenade in The Oak Bar tonight!'
And the 24-year-old left her headpieces at home for the night, instead arriving with long platinum blonde hair and minimal make-up, wearing only eye-liner and mascara.
Her fairly natural appearance was contrasted with the cave girl-inspired hairy ensemble though, which was accompanied by masses of sparkling necklaces.
Her latest kooky outfit came as reports revealed she is allegedly to team up with Italian fashion house Armani.
The designer is apparently set to construct the singer's wardrobe for her upcoming Monster Ball tour in December.