;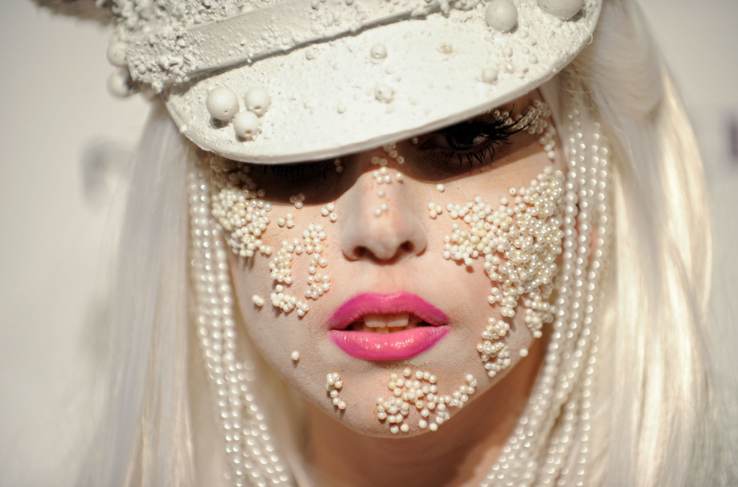 Lady Gaga turned into a  not so pretty Little Monster  during a six-hour deposition in Manhattan, during a deposition taken August 6 obtained by the New York Post in which she responds  to claims from her formal personal assistant Jennifer O'Neill. The complaint filed by O'Neill states that Gaga owes her $390,000 in overtime.
"I was by her side virtually 24 hours a day, seven days a week," O'Neill testified. "That includes sleeping in the same bed with her. Because she did not sleep alone."
When asked if the unusual task was "required" as part of her job, O'Neill said, "I felt it was."
"Unlike anybody else on that tour, I did not have my own hotel room. I was not asked if I wanted my own hotel room," she said.
Transcript excerpts from O'Neill's July 11 deposition at a Times Square law office don't suggest there was any hanky-panky between her and Gaga, an outspoken supporter of gay rights.
And O'Neill noted, "I had no privacy, no chance to talk to any family, no chance to talk to any friends, no chance to have sex if I wanted to have sex. There was no chance to do anything."
O'Neill,  also revealed that her daily duties included making sure Gaga "had taken her medicine," although the specific drugs aren't identified in the Manhattan federal court filing.
She said the 26-year-old superstar —  "made it clear" that "I expect you to be working and to be available 24/7."
Gaga according to court docs obtained by the New York Post from the August 6 deposition, called O'Neill a "f**king hood rat who is suing me for money that she didn't earn."

"She's just — she thinks she's just like the queen of the universe," the Edge of Glory singer said in the transcribed diatribe. "And, you know what, she didn't want to be a slave to one, because in my work and what I do, I'm the queen of the universe every day."

During one point where the two apparently crossed glances, Gaga blasted O'Neill, "Are you going to stare at me like a witch this whole time — honestly? Because this is going to be a long f**king day that you brought me here."

At one point Gaga turned her ire to O'Neill's lawyer Paul Millus, telling him, "Listen, listen, sir, if you're going to ask me questions for the next five hours, I am going to tell you exactly what f**king happened, so that the judge can read on this transcript exactly what's going on."

In the suit filed two years ago, O'Neill claims she was not paid for 7,168 hours of work — amounting to $393,000, plus damages — in her time working for the singer between 2009 and March 2011.

Gaga said that O'Neill, "knew exactly what she was getting into, and she knew there was no overtime, and I never paid her overtime the first time I hired her, so why would she be paid overtime the second time? This whole case is bullsh*t and you know it!"

She continued: "I'm quite wonderful to everybody that works for me, and I am completely aghast to what a disgusting human being that you have become to sue me like this."

Gaga then named a laundry list of perks O'Neill received in working the $75,000 annual job.

"She slept in Egyptian cotton sheets every night, in five-star hotels, on private planes, eating caviar, partying with Terry Richardson all night, wearing my clothes, asking [Yves Saint Laurent] to send her free shoes without my permission, using my YSL discount without my permission.

"It is, like, such an amazing luxury that I get to travel the world and have planes, she doesn't even see what a luxury it is, but she thinks it's owed to her for no reason," the Just Dance singer said.

Gaga said giving O'Neill the gig "was essentially a favor, and Jennifer was majorly unqualified for it," failing to live up to the task of anticipating the superstar singer's needs and growing lazy after some time on the job.

"I can't walk down the street and go buy myself toiletries, I have to call security, I've got to call Jen or now I've got to call Wendi, I've got to get a whole bunch of people together to help me fix the problem, which wouldn't happen if she was doing her job properly on regular days," Gaga said.

The assistant job "is a 9-to-5 job that is spaced out throughout the day," Gaga said, adding that "you don't get a schedule that is like you punch in and you can play f**king Tetris at your desk for four hours, and then you punch out at the end of the day.

"This is, 'When I need you, you're available' … I'm not in any way discounting how hard an eight-hour work day can be, or discounting the role of an assistant.

"I do six shows a week, and I make a lot of money. I work, I work 24 hours a day. Not that people who do that don't deserve their hourly pay, but I'm just pointing out that I deserve everything I've worked for. I deserve every dollar of it. And she deserves every dollar of her $75,000 that we agreed to. But she does not deserve a penny more."

Gaga said the working relationship ended because of O'Neill's apparently unforgivable habit of hogging one of the two (basically off-limits) beds on her private jet.

"Most of my assistants in the past always offered it to my mother or my family," Gaga said. "Jennifer was the first person that never offered it to anybody and always took it for herself."

During the fall of 2011, following Thierry Mugler's fashion show, Gaga said that O'Neill, after a wild night in Paris, "completely, like, flipped out at me, beyond belief" when she refused to give up one of the beds on the ride back to the states.

The incident happened in front of celebrity photographer Terry Richardson, which Gaga said embarrassed her.

"I said, 'Jennifer, this is really inappropriate in front of Terry Richardson,' and she was like, 'Don't I get some sort of seniority because I've been here longer, and I'm your friend?'" Gaga said. "And I remember those words as clear as day, because when your best friend looks you in the eye and says 'Why can't I have that seat on your private plane, I'm your friend,' the first thing I thought was 'You're not my f**king friend.' "
O'Neill's lawyer, Virginia Trunkes, wrote in court papers that the case "illustrates that dichotomy between celebrity and assistant, between rich and poor, between those who have and those who have not, and, most of all, between the hubris of a person so enamored with her status that she considers herself above the law."
Meanwhile, legal experts told The Post that Gaga was wrong when she testified that her assistants aren't entitled to overtime because they're working "a 9:00 to 5:00 job that is spaced out throughout the day."
Prominent labor lawyer Justin Swartz said: "If the personal assistant is required to be at Lady Gaga's beck and call, Lady Gaga has to pay for that."