;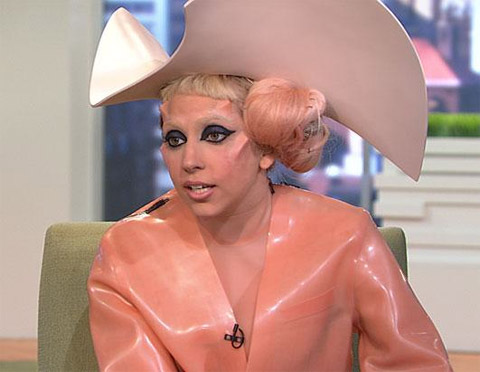 Today on 'Good Morning America' Lady Gaga wore a condom inspired outfit.
Gaga said (via The Hollywood Reporter). "I really wanted to, head-to-toe, be representative of what we women and people all over the world need to be concerned about, which is the leading cause of death in women all around the world, which is HIV." "I want to get people started at home at a younger age with their children talking about HIV, talking about AIDS, talking about safe sex. My mother talked to me about sex at a young age, and she always taught me to be self-aware… I encourage women all over the world, and men, to speak with your friends, your parents, your sister, your brothers, your uncles, your aunts, all the loved ones in your life, about safe sex, about protection, because it is a 100 per cent disease that we can prevent, but it is zero per cent curable."
Gaga who is a spokesperson for MAC's Viva Glam has worked with the cosmetic company to design a lipstick and lip gloss with proceeds going to HIV and AIDs prevention. She is hoping the campaign will raise $50 million for the cause, last year Gaga and MAC raised $34 million.
Lady Gaga went on to say "I know my fans very well and they think it's cool to be aware about sex, aware about the world and aware about things like HIV and AIDS and protecting themselves,"
Gaga also said on the ABC show that she was in her Grammys egg for three days. "I wanted to have a rebirth, and I think the universe needs to have a rebirth," Gaga said. "I think we all need to be inside a vessel for three whole days, thinking about how we can love ourselves more, protect ourselves more, live life with more passion and look not outwards for validation but inwards."