;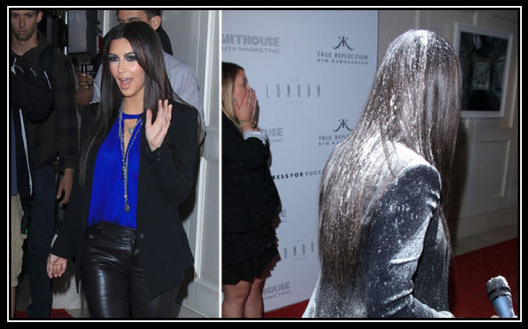 Kim Kardashian got a bit of flour power as she was posing and doing TV interviews on the Red Carpet for her new True Reflection perfume.
A woman came from behind, yelled, "Fur hag," and then dumped an entire bag of white flour on top of the reality star's head to the shock of celebrity interviewers, publicists and her other handlers.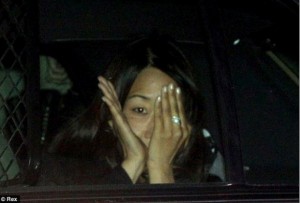 The embarrassing incident was captured by cameras and quickly went viral on social media.
The stinker of reality TV has been (big) butts of many jokes because she divorced her hubbie after 72 days of marriage bliss, has been accused of using child laborer in horrible conditions to make her clothing line and a laundry list of other Kardashian catastrophes.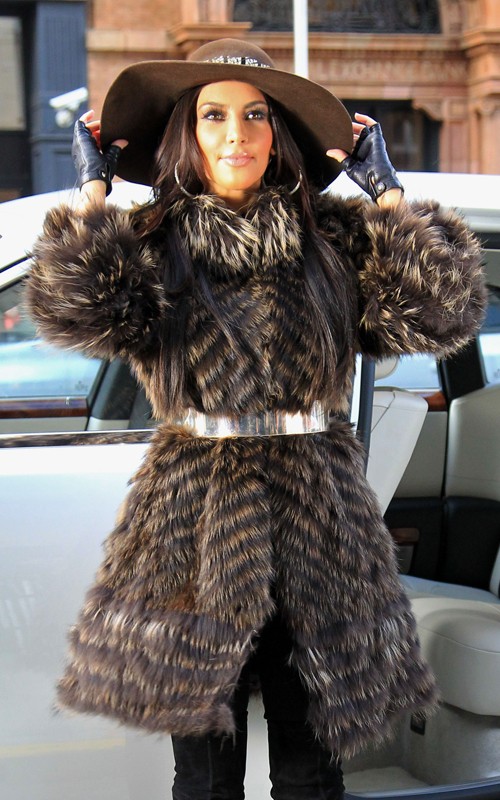 People for the Ethical Treatment of Animals or PETA named her the worst dress celebrity in 2010 because she still wears fur.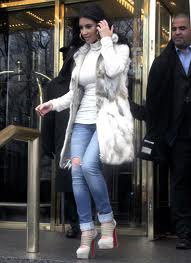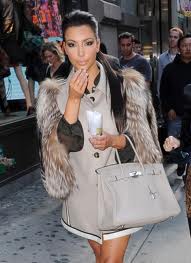 But the 31-year-old celebrity may have jumped the proverbial shark with me. Kardashian laughed off the latest flour bombing indent, telling E! TV Thursday night: "That probably is the craziest, unexpected, weird thing that ever happened to me. Like I said to my makeup artist, I wanted more powder and that's a whole lot of translucent powder right there."
Security guards held the alleged flour bomber, described as a young Asian woman, until paramedics arrived at the London Hotel in West Hollywood and determined Kardashian was not harmed.
However, several days later, the fur-wearing Kardashian changed her tune and has indicated she is moving forward with pressing charges.
"I am just going to think about it, because I don't want someone to think they can really get away with that," she said. "So we are going to handle that."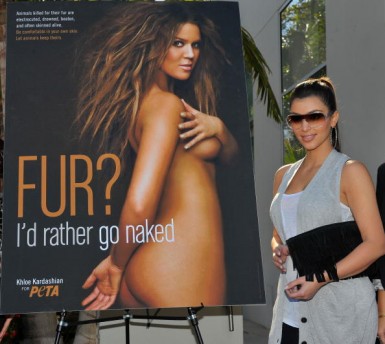 PETA immediately blasted Kardashian's plan with with a statement released to TMZ. "If she presses charges, at least people will be constantly reminded of her selfish, callous disregard for the cruel deaths that she causes by wearing fur," the animal rights group said. "How much better it would be if she decided to evolve and enhance her image by donating her vulgar furs and exotic-animal skins to the homeless. The activist acted from the heart, something Kim doesn't seem to have. If anything, Kim should get a life, the very thing that she denies animals."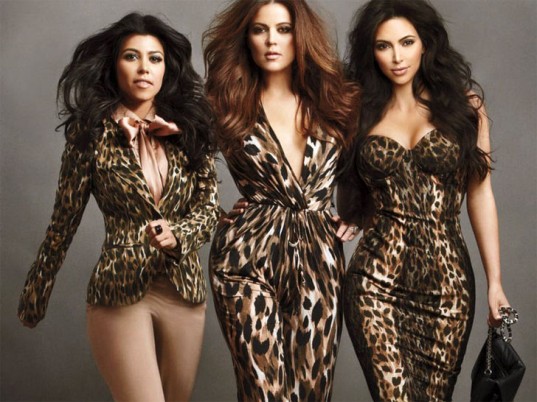 The group was not involved in the flour dumping but said it is planning to help with the flour-bomber's defense costs.
As a celebrity, Kardashian has a chance to help change the world. She and her family of Armenian decent have done some of it by bringing the Armenian genocide to greater awareness. Using her star power, she could help bring attention to needless animal cruelty in the fur fashion industry.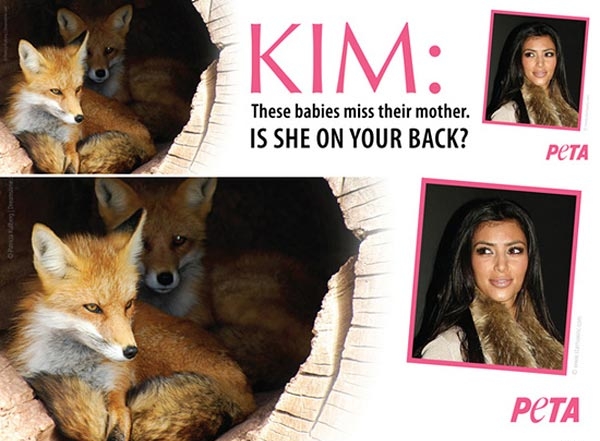 "PETA has tried everything from polite letters to public protests, but Kim Kardashian has not been moved by the news that animals are beaten, electrocuted and even skinned alive for real fur garments," a PETA spokesman shared with TMZ. "Whoever threw that flour may reach her when our polite appeals did not."
As a self-described animal lover and dog owner, how could she continue wearing fur — the very same fur from the slaughter of innocent animals? Not wearing fur would speak volumes and dispel the public's notion of Kardashian's beauty as only skin deep.