;
Kim Kardashian debuted her song Jam Turn It Up on Ryan Seacreast this morning with her sister Kourtney in tow.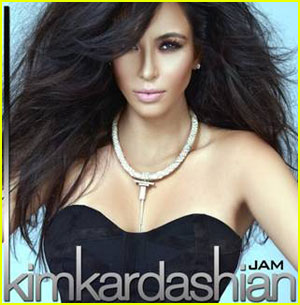 Kim worked on the single with The Dream after Ciara told Kim, "The-Dream wants your number' and i was like 'Please, I'm sure he does' and she said 'no seriously he really wants to do a song with you'." Adding, "[The-Dream said] let's just have fun. Let's donate the proceeds, let's just have fun with it don't take yourself seriously, try something you've never done before."
Kim said the process of recording the single was nerve racking saying when she got to the studio she felt like "first give me a drink".
Kardashian further revealed, "I walked out at one point…cause I was scared!"
All proceeds from the single will be donated to St. Jude Childrens's Research Hospital.
Intro
Turn me up, Turn me up, Turn me, Turn me, Turn me up
Yeah (x8)
Turn me up, Turn me up, Turn me, Turn me, Turn me up
Yeah (x8)
Verse 1
Im goin out tonight, its goin down
Headed straight to the front of the line, on the fly
On the floor I cant stand still
And im goin to work like im paying my bills (bills)
My whole clicks on the floor (the floor)
We gon party, then party some more (some more)
Rozay up in the air
Feeling good, feeling great, just got paid
Hook
And they playin my jam
They playin, my jam
Turn it up, Turn It Up (DJ)
Turn it up, so I can rock the night away (away)
Verse 2
Imam burn it out tonight, its goin down
By live via satellite
And all I see is angels in my eyes
Buzz got me way up in the sky
Maybach in the front (the front)
Pick out any boy that I want (I want)
DJ here I am
Feeling good, feeling great, just got paid
Bridge
Girls in the building
Fellas in the club
Boys spending money
Girls looking good
Im on the floor, living my life
Feeling so good, feeling so right
Got my hands up
Celebrate like its my birthday
5 more shots of tequila
I'm thirsty
Feeling so good, I'm feeling so great
Tonight (x4)
Outro
Turn me up, Turn me up, Turn me, Turn me Turn me up
Yeah (x8)
Killa (Killa), I run music