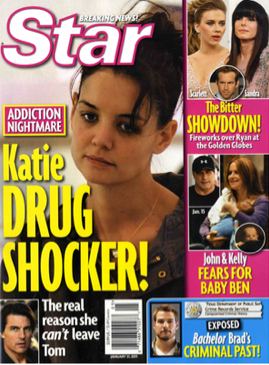 Katie Holmes is suing Star Magazine for libel in Los Angeles federal court over accusations that she is a drug addict, and is seeking $50 million.
The lawsuit was filed over the January cover of Star that screamed "Katie Holmes drug shocker," suggesting that the actress used drugs. The lawsuit states, Star's "vicious lies about plaintiff, designed to hype the sale of its sleazy tabloid magazine, were calculated to cause severe harm,"The average reader (would) understand that plaintiff has become shockingly addicted to drugs… There is no other way to understand them. The cover even created the false impression that, but for plaintiff's nightmare drug addiction, she would 'leave' her husband."
Holmes attorney Aaron Moss of Greenberg Glusker Fields Claman and Machtinger said that while tabloid accusations are common, this one crossed the line. Moss went on to say "They've been attacking her and her husband for years now, and she finally said, 'Enough is enough'. She wants to stand up for her legal rights. This is such an outrageous statement, this idea that this loving mother is on drugs, or suffering an addiction nightmare there's not a shred of truth to it."
Read the full lawsuit here.
In a statement, AMI the owner of Star said it stood behind the story.