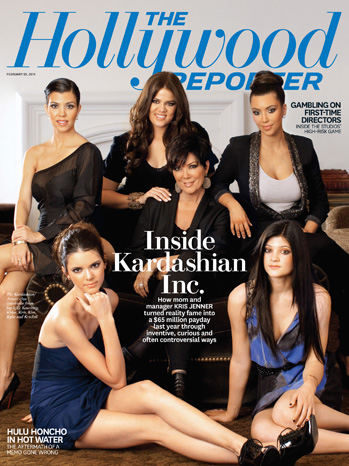 According To The Hollywood Reporter:
Twitter, endorsements, paid appearances, fragrances: the new issue of the Hollywood Reporter magazine goes in depth with mom and manager Kris Jenner about the inventive and controversial ways she's monetized reality fame for her family.

"We're just this big family with a lot of drama and a lot of issues, and there's someone here for everyone to relate to," says the 55-year-old mother of six (Kourtney, 31, Kim, 30, Khloe, 26, Robert, 23, Kendall, 15, and Kylie, 13), wife to Olympic gold medalist Bruce Jenner, and, most crucial, hands-on manager of them all. "I think if you've ever been embarrassed by your family — like your mother's a kook or your father's too strict — the show gives you hope. I've had so many people come over to me and say, 'I remember the episode where you were crying over blah, blah, blah, and it helped me so much and I got through my dad's death because of you.' "
And then there are those who watch the family's three series on E! (with a fourth going into production this year) for the there-but-for the-grace-of-God voyeurism: Thank God my mom doesn't want to know the size of my boyfriend's penis! Hey, at least my dad isn't walked over by every single member of his family and my mom doesn't engage me in a postpartum discussion about personal lubricant. When asked about that last particular discussion, Jenner looks genuinely puzzled. "Really? Who hasn't had to use lube?"
Of course, this is a mother who has hanging in the bedroom of her immense home in Hidden Hills, Calif., a photo of her three eldest girls, over which one of them has scrawled in what looks like hot pink lipstick, "Hookers R Us." But if the Kardashians have no filters, they have no pretenses, either. This is a great part of their charm.

Since their arrival on E! in 2007, thanks to such no-boundaries behavior, the tight-knit family has ably defied the laws of 15-minute reality TV fame while building a wildly profitable empire. As the cameras keep rolling on the eight-member clan's topsy-turvy domestic life, the Kardashians have cashed in, making more money last year than what Angelina Jolie, Sandra Bullock and Tom Cruise are estimated to have earned combined: a staggering $65 million (a source close to the family confirms the figure). As manager, Kris Jenner personally takes 10 percent.

The branding mastermind behind this success is Kris, a former airline stewardess and self-proclaimed "momager" who pushed her kids into the national limelight. She grew up in a middle-class home in La Jolla, Calif., with a single mom (who ran a children's clothing store) and, for most of her life, has played the role of wife to two public figures: first husband Robert Kardashian, the late lawyer best known for representing O.J. Simpson, and current spouse Jenner, 61. She was also, according to a former pal, socially ambitious and would strategically trail the footsteps of such types as the Hilton clan — with whom she was friends and certainly has leapfrogged in terms of power.

Kardashian spotted Kris Houghton at a golf tournament in La Costa, Calif., when she was 23 and was immediately smitten — he was a lawyer in his 30s whose family, says Robert's first cousin Cici Bussey, "was like the Armenian version of the Rockefellers." His father had the largest meat-packing company in Southern California; they had a mansion, Rolls-Royces, a tennis court. Kris was not a party girl, and in no way a Bohemian, says Bussey; she and Kardashian shared the desire to start a large family. They were married in 1978, and Kourtney was born 9 months and 23 days after the wedding.

Kim has led the way in incorporating her massive fan base (she has more than 6 million Twitter followers) into the decision-making process surrounding their endorsements, empowering them with a sense of ownership. Says Kim: "I have a blog that has 40 million hits a month. People leave comments: What shoes do you wear, and what lip gloss do you use? My mom told us, 'So why not be a brand for our fans and give them what they want?' Many of our ideas [about what to endorse] come from our fans and then our mother makes it happen."

Kim now charges as much as $25,000 to simply mention and link to a brand or company in a tweet. It's so effective a tool that businesses have begun including Twitter clauses in their contracts with the family, committing the girls to a set number of tweets about their product.
"I see a Twitter clause in almost every contract," says APA's Brian Dow, who works with the family on the majority of their commercial interests (WME represents the Kardashians as their talent agents). "It's like having a photo run in a magazine. It's another impression for a brand and another medium."
A DAY IN THE LIFE OF KRIS: She Shares Her Calendar From One Day: Feb. 9
• 3:30 a.m. Satellite media tour with Khloe for T-Mobile.
• 7-8 a.m. Workout with Gunnar Peterson.
• 8-8:30 a.m. Return East Coast business phone calls from the car.
• 8:30-9 a.m. Shower and dress.
• 9-9:30 a.m. E-mail correspondence from office.
• 10 a.m. Meeting with Leonard Armato about filming an upcoming Skechers commercial with Kim.
• 10:30 a.m. Phoner with Seventeen magazine about Kendall and Kylie.
• 10:45 a.m. Phone interview with writer for Redbook magazine article.
• 11 a.m. Meeting with QVC about new Kris Jenner clothing line.
• Noon Lunch with Lighthouse Beauty regarding fragrance launch for Khloe and Lamar's Unbreakable for Valentine's Day at the Beverly Hills Hotel.
• 1 p.m. Phoner with Keith Frankel to review spring ads for QuickTrim line.
• 1:30 p.m. Meeting with Jupi and Sears for creative approvals for new Kardashian Collection.
• 3 p.m. Creative meeting with Ryan Seacrest Productions at E! about new series.
• 5 p.m. Drop by Khloe and Kourtney's Kardashian Konfidential book signing at Barnes and Noble in Santa Monica.
• 6 p.m. Finalize and approve photos for Robert's new OP campaign.
• 7 p.m. Dinner at home with Bruce, Kendall and Kylie, Scott, Kourtney and Mason.
8 p.m. Watch American Idol.
"My fantasy is to have Keeping Up With Kardashians, Season 26," Kris says. "Who knew it would be this profitable? I should have had more kids."

Still, she knows that this moment — no matter how long it's already been extended — might not be forever. "We definitely worry about overexposure. We never want to get to a place where people are thinking, 'Enough is enough.' "