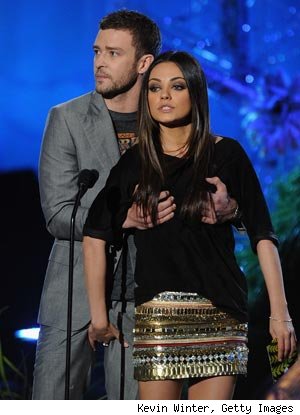 The "Friends With Benefits" co-stars Justin Timberlake and "Black Swan" star Mila Kunis were at the MTV Movie Awards Sunday night getting friendly with each other as they presented an award.
Justin told the media after the show "even though we're in the movie "Friends With Benefits' we've never dated," Kunis added, we're like brother and sister".
"We have a totally platonic relationship, which is why I can do this," Timberlake said as he grabbed Kunis' boobs.
Earlier this year Kunis left her 8 year relationship with Macaulay Culkin and in March Timberlake split with his girlfriend of four years Jessica Biel.