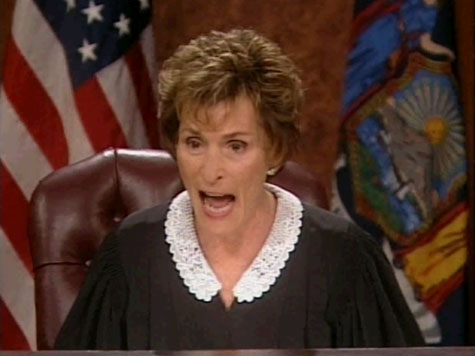 Judith Sheindlin aka Judge Judy was rushed to a local hospital by ambulance  from the set of her highly rated "Judge Judy" at 9:12am Wednesday.
First reports of Sheindlin's condition on the set were she was incoherent and told the audience she needed to take a break and left the bench.
Gary Rosen Judy's rep said, "The judge was feeling nauseous and had some intestinal discomfort and decided to go to the hospital to get it checked out," "They are keeping her overnight for tests."
Sheindlin tweeted Wednesday morning: "I'll be back taping April 18th. All my tests were negative. I feel fine!"
She also joked about the Wednesday morning incident, when she became ill during the taping of her legal show and was rushed to a local hospital.
"I asked my doc what was wrong with me..he said "ummm.." She said she told him "umm is not an answer! I'll be okay guys!… Fired the doc though, telling me "ummm..", not an answer u fool!"
According to the Los Angeles Times her spokesperson Gary Rosen said, "all of the tests are negative and she is going home tomorrow."