;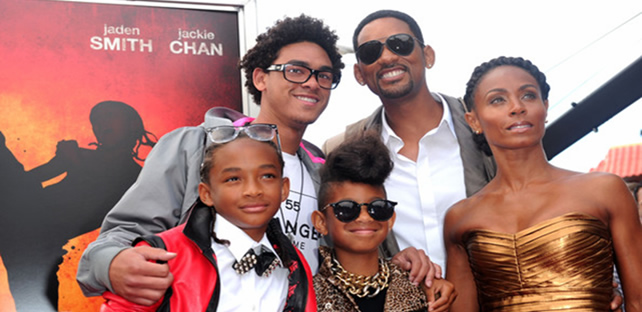 In Britain's Daily Mail, Jada Pinkett Smith defends  her and husband, Will Smith against accusations they are allowing their children to be exploited in the entertainment industry.
Pinkett says, "Our children are allowed to stay in the paradigm of being a child. They don't have to take care of their families: become the complete emotional, physical, and financial focus that happens to many child stars. Our family structure is a little different and it's quite hard to comprehend because it's so outside what usually happens in a family, but the paradigm is the same."
Their son Jaden,12, has appeared in the remake of "The Karate Kid" and 10-year-old Willow  has several chart topping pop songs and is currently on tour with Justin Bieber.
Pinkett-Smith goes onto to say,"They were still going to have their trials because of who their parents are."
"I will not overlook that. I have a 10-year-old who can stand up in front of an audience of 17,000 and rock the house. I have to keep her grounded."
Author, Terry McMillian  is part of a growing chorus of critics that accuse Jada and Will of  profiting from and "pimping" out their pre-teen children.
Jada continues to answer her detractors with a simple, "this isn't about fame or money." As much as I wish I could figure out a way I could protect my children, they have their destiny. I'm not going to put brakes on that out of fear."