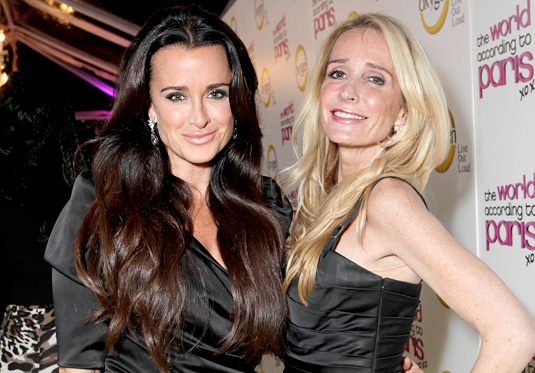 Kyle Richards of the Real Housewives of Beverly Hills appeared today on Ryan Seacrest KIIS FM a local radio show in Los Angeles. Richards apologized for attacking her sister and said of her own behavior, "I'm not proud of that moment, to say the least."
On a previous episode of the show Kyle alluded to Kim's alcohol problem stating "You're an alcoholic,I said it and now everyone knows."  The sisters are speaking again but Kim stated on last nights reunion show they are trying to slowly rebuild their relationship.
Kim did enter rehab after the taping of the finale show but left after a week of treatment.
Kyle went on to say during the radio interview:
"I regret everything about that night," Kim told Ryan. "It's the biggest regret in my life, to be honest. It was terrible. Both of us regret the things we did and we said."

"We're good now," Kim said. "It took a while, but we're good now. We're in a good place.

"There was a lot of stuff happening off-camera. The audience doesn't see everything. I just think that it came to a boiling point that night and just kind of snapped.

"We argue now and then and we clash—it's definitely been highlighted on the show. We also have a lot of fun together and laugh, but that was our worst fight ever, no doubt, I can guarantee it's the last time we ever fight like that."
Due to the huge popularity of the show Bravo has added two new episodes  of "The Real Housewives of Beverly Hills" on Tuesday February 8th and 15th at 10pm ET/PT
Listen to the full interview with Kyle Richards here