;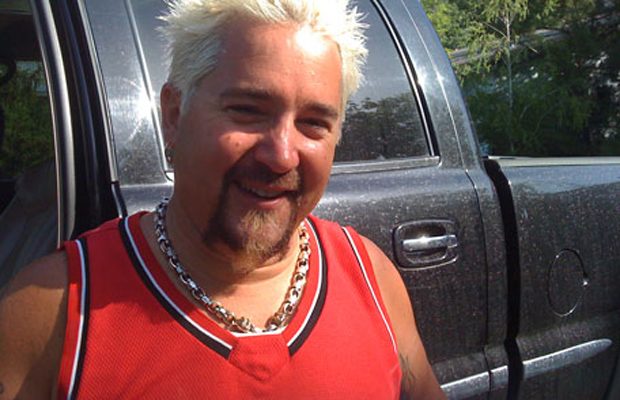 Its never a good thing to burn bridges but especially when you're in the public eye hawking pots,pans, knives  on the Food Network.
David Page a producer for the network who made Guy Fieri a star on his Diners, Drive-ins & Dives show is now commenting on his split from Fieri over book proceeds and what Page says is Fieri's  out of control ego.
According to Gawker:

"You have to protect Guy from all of his poop jokes," Page says. "Anytime any woman mentioned 'cream,' Guy went into a sexual riff. When cutting the show, you had to tell the editors to watch Guy's eye line, because it's always on breasts."

Fieri also needed protection from homosexuals, or at least advance warning. Early in the show's run, Page got a phone call from Fieri, who'd just walked out of a restaurant in a huff.

"Guy had decided that the two men running the restaurant were life partners," Page remembers. "He said, 'You can't send me to talk to gay people without warning! Those people weird me out!'"

From then on, show researchers were required to note any indications of homosexuality detected during pre-interviews. (Fieri declined to comment for this story through his spokespeople.)

Former field producer Kari Kloster confirms that Fieri made the odd demand about gay guests, and says she witnessed the star become more controlling on set."
In a formal statement released by Team Fieri, the Food Network star denies being homophobic or anti-Semitic. The statement claimed the feature  in CityPages a local alternative magazine was riddled with "omissions, basic errors, and complete fabrications."
But when CityPages reached  out to Food Network executives, Fieri's manager, Fieri's public relations firm, and a number of ex-employees to get his side of the story, they either didn't return phone calls and emails or declined to comment for the record.