;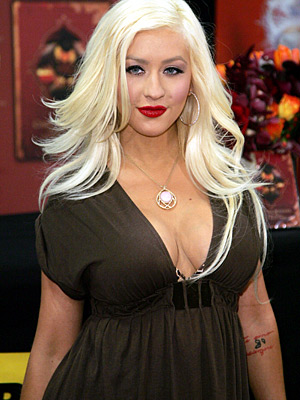 Her wild partying and heavy drinking have snared tons of headlines — and one longtime professional associate is concerned "how it's beginning to take a toll on her looks. Youth can only carry you so far. Xtina is starting to look haggard!"

In addition, Aguilera's temper flareups — like her alleged run-in with her "Burlesque" co-star Julianne Hough (which reportedly infuriated Hough's boyfriend and Hollywood power broker Ryan Seacrest) also have folks worried. They attribute a lot to emotional turmoil stemming from the collapse of Aguilera's marriage to Jordan Bratman. "But it's got her acting too crazy," said a pal Thursday.

Last December semi-nude photos of Christina were also leaked to the press by a computer hacker.

Christina's rep released a statement saying, "The photos were taken in the privacy of Ms. Aguilera's home and were used only in a personal exchange between the star and her stylist."

"The photos of Christina Aguilera being leaked to the press were illegally obtained by a hacker who tapped into Christina's personal stylist's account."

"We are attempting to determine the identity of the hackers and will pursue them aggressively," the statement continues. "Their conduct is reprehensible."

While no one is saying Aguilera's problems require rehab, one recent episode — where she passed out in the master bedroom during a party at actor Jeremy Renner's house — has Hollywood players saying Aguilera needs to calm down and get her act together.

"After all, she is the mother of a 3-year-old little boy [son Max]. She needs to act more responsibly," said her friend.