;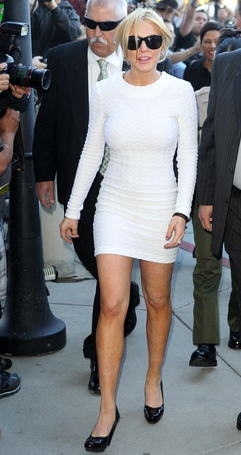 As Lindsay Lohan was being escorted into court for her felony theft arraignment by 21 LAPD officers all eyes were on her body hugging white dress.
If you want the "Lindsay" look be ready to shell out $895, $575 for the Kimberly Ovitz dress and $320 for her Chanel 5182 sunglasses to avoid eye contact with those pesky paparazzi.
Apparently Lohan is also good for business if you own a boutique ,the white-hot dress has already sold out.
With so much attention paid to Lindsay's court attire many blogs and media outlets were asking the question,was Lindsay's designer duds appropriate?
Lohan later responed to the criticisim tweeting on Thursday, "fyi- i would never steal, in case people are wondering. I was not raised to lie, cheat, or steal… also, what i wear to court shouldnt be front page news. it's  just absurd. god  bless."