;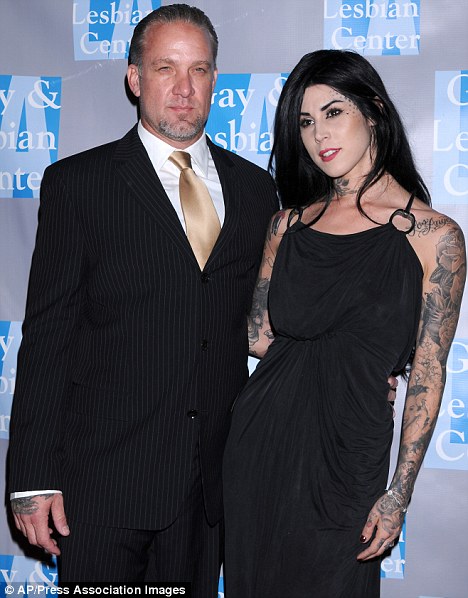 Reality Star Kat Von D walked out of a local Los Angeles morning show after the host Jeff Michael aired a clip from her show of Von D showing her ex Jesse James a childhood portrait of himself tattoed on her ribcage shortly before they split.
The reality show will air tonight on TLC which includes the clip shown on the morning talk show.
Michael said, "I was in the process of introducing her and we were airing the clip,' he explained.' She was standing in the wings waiting to come out but when she heard me mention the break-up she removed her microphone and just walked out."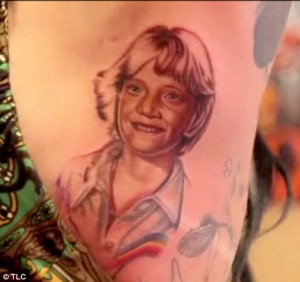 Co-host on Good Day LA Jillian Reynolds says there was nothing wrong with bringing up the subject of her split with James, "of course we were going to talk about that (tattoo) and her break up."
"I'm keeping it: Kat says she has no intention of removing the tattoo she had done of Jesse James before their split this week."
'If she had come out and said, 'I don't want to talk about it.' What are we going to do? We would be like, "That's it".
'We wouldn't have kept grilling her."
'If you are putting your life on a reality show and then are not willing to talk about it, it seems kind of….' Jillian raged on screen, before Jeff finished: 'Hypocritical'.

Earlier this week Von D told TMZ that she will not have the tatto0 removed saying, "I love my tattoo its more than just a portrait, it has a lot of meaning."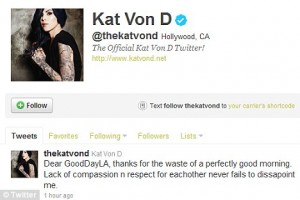 Kat and Sandra Bullock's ex Jesse James, 42,  began dating in August of last year and announced their engagement in January and were to marry later this year. James said the long distance romance caused their split, he lives in Austin and Von D lives he Los Angeles where she tapes her reality.