;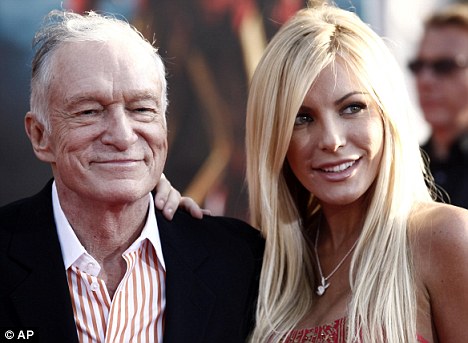 According To MailOnline:
Newly engaged Hugh Hefner has claimed that he knows his third marriage will be for real – as he has enjoyed an incredible 50-year-long bachelor party.
The 84-year-old Playboy is set to marry 24-year-old Crystal Harris after proposing on Christmas day.
And in his first interview he claims he is making the right choice this time.

Wife number three: After a 50-year Bachelor party Hugh Hefner is ready to settle down with Crystal Harris
'My experience has not be very positive,' he told Radar online of his first two marriages.
'I care about love and romance, and they are not the same thing. Sometimes marriage works against romance but in my relationship with Crystal, I find an exception to that rule.
'I am very optimistic about this one.'

Hugh Hefner's fiancée Crystal Harris shows off her shiny engagement ring
He added that he wasn't planning on going wild before the wedding.
'I've been having my bachelor party for the last 50 years,' he joked.
In the interview Crystal also revealed she didn't want to have children, saying: 'I've always said I don't want kids, just animals and there are plenty around here.'
Hugh is already a father-of-four – 58-year-old Christie and 55-year-old David from his first marriage and sons Marston, 20, and Cooper, 19 from his second.
Crystal was born to British parents in Arizona, who moved back to the UK after her birth, but then came back to the States a couple of years later and settled in San Diego, California.
While she was studying psychology at San Diego State University, she started modelling and was noticed by Playboy.
She met Hefner on Halloween in 2008 and started dating him in January 2009 while he was also dating identical twin glamour models Kristina and Karissa Shannon.

But he ended his relationship with the twins in January this year and has remained monogamous to Crystal since.
Hefner received his divorce from his second wife in March, freeing him to propose to Crystal.