;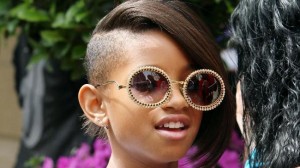 According to EOnline:
"Why does Willow Smith get to be a recording star at 9 and I'm still laboring in my garage at 27? No kid that age has anything to offer the industry.
—BlaCK, via the Answer Bitch inbox
Jay Z—yes, that Jay-Z—begs to differ; it was his label who signed the daughter of Will Smith and Jada Pinkett-Smith to a record deal. The mogul claimed, via Ryan Seacrest 's KIIS-FM radio show, that he had no inkling of Smith's age or parentage when he first heard, and loved, the kid's whiplash-inducing single. Jay-Z also insists that Smith is no coaster and has a vision of her own, though industry experts tell me that there's probably plenty of coddling going on behind the scenes …
For what it's worth, industry insiders tell me that Smith is the real deal. She sounds like Rihanna and has more poise in the crest of her coif than, say, all of Ke$ha parts put together. It's also worth noting that Stevie Wonder started his career at age 8; Michael Jackson also was a bona fide kid superstar. So there is a solid tradition of kids with plenty to "offer" the industry, as you put it.
But if you're asking about creative vision, you win. No kid that age, no matter how talented, has the wherewithal to mastermind the direction or scope of, say, a conceptual album, or a tour."