;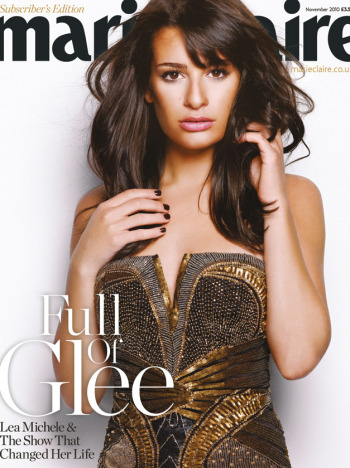 Lea Michele in the Daily Mail:
Two years ago she audition for the role of Rachel Berry in Glee, a part which was made for her and what she said has changed her life.

She said: I auditioned once.  I read and I sang On my Own and I sang a song from Thoroughly Modern Millie. Then I went straight in to meet the studio and I got it right away.

'The minute I read it, I wanted to play Rachel because I felt like I understood her and that she was a part of me.'

It's a role that has also won her numerous showbiz accolades, including an Emmy for Best Actress in a Comedy.

But she is quick to point out that even though she receives the most attention, she said: 'I feel very equal to my cast and I feel like I couldn't do what I do without them.'

But is she as squeaky-clean as her good-living, early-to-bed early-to-rise character?

She said: 'I can honestly sit down in front of you and say I don't smoke and I don't do drugs. I never have and that's who I am.

'These days I have one glass of wine and I'm completely gone. I've never been a "Let's go out and have a cosmopolitan" kind of girl. I don't even think I've ever tasted a cosmopolitan before. I much prefer a glass of wine and a bath at home at night to relax.'

But she does have one vice – a passion for tattoos, although she played down her nine inkings, which she said are 'so, so little'.