;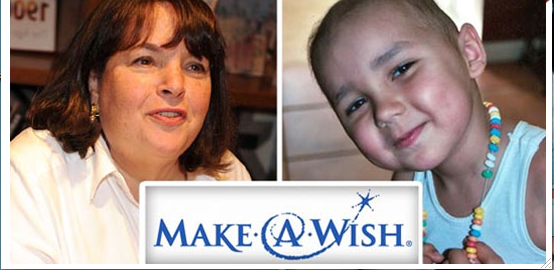 Celebrity Chef Ina Garten is apparently way too busy baking souffles or whipping up a chicken cordon bleu for husband Jeffrey to cook with a 6-year-old Make a Wish Foundation cancer patient twice during the past two years.
Enzo was diagnosed with Acute Lymphoblastic Leukemia three years ago  and often watched Ina's show with his mother while resting in bed.
Make a Wish has approached Garten twice and each time the Barefoot Contessa has rebuffed Enzo's request to cook with her. Last year Garten was unable to honor the boys request due to  her book tour and once again this year her team responded with a "definite no".
Enzo's family say the 6-year-old is heartbroken asking, "Why doesn't she want to meet me?"
"Despite her demanding schedule, Ina participates and helps as many organizations as she can throughout the year, helping children and adults like Enzo with life threatening and compromising illnesses. "Unfortunately, as much as she would like to, it's absolutely impossible for her to grant every request she receives."
Enzo's new wish is to swim with dolphins and is taking lessons to fulfill is dream.