Representative Aaron Schock, 30,  who represents the central and western Illinois already has the distinction as America's youngest congressman and has now been proclaimed the fittest by Men's Health Magazine.
The magazine said Schock was the first politician to ever appear shirtless in the magazine.
" Appearing at a photo shoot in a "form-fitting Zegna suit and tapered shirt that show off both his musculature and his fashion savvy," it adds that he "looks more like a hit man from a European spy thriller than a boring politician."
The Congressman is partnering with the magazine for the Fit for Life Summer Challenge, urging Americans to get moving and commit to a plan to lose 30 pounds by Labor Day.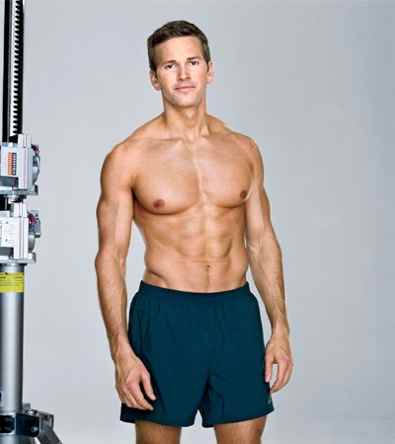 Schock works out at least 1 hour a day and said, "It wasn't even so much that I wanted to lose a ton of weight as it was just to stay physically fit. And there's also a mental benefit," he said. "I notice a huge difference when I get my workout in the morning and when I don't with how productive I am throughout the rest of the day."
On Michelle Obama:
"I think Michelle Obama is on the right track with her Let's Move campaign to bring down childhood obesity."
"She and I come from the same state, Illinois, which is number four in the nation for obese children. One out of five Illinois children are considered obese."
On the responsibility of being a role model:
"If you want to start talking about healthy lifestyles and staying in shape, then you yourself should do your best to try to be a model, an example to people you're trying to convince to do the same."
On a future in politics:
"Public service is a great honor, but it tends to be all-consuming. When I look at that Capitol dome and no longer feel that tingle. Then I'll know it's time to go."
On Exercise v Nutrition:
"Exercise is more important that diet for me because it's a twofer. It keeps me in good physical shape and it relieves stress. And when you're a representative of the public, there's never a shortage of things to do"
On working out before sunrise:
"It's got to happen early or it's not going to happen."
On his fitness calling:
"In college I could feel my body changing, and I knew that if I didn't make some changes, I was going to go in the wrong direction."