;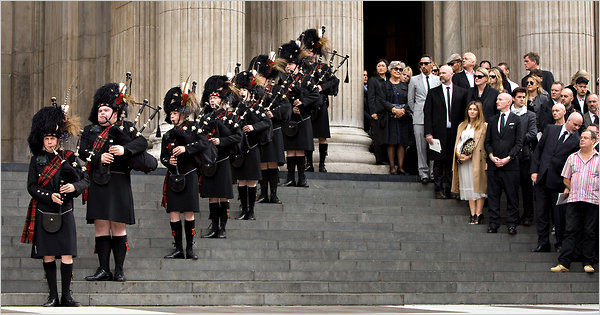 British Fashion designer Alexander McQueen 40 stunned the fashion world last February when his suicide was announced in London. Today 1000 of McQueen's friends, family and professional gathered at St. Paul's Cathedral in London for his memorial service.
Just a few of the celebrities in attendance at the memorial were Naomi Campbell, Kate Moss, Stella McCartney and Sarah Jessica Parker many wearing his designs.
Alexander McQueen rose to prominence in the fashion industry for his unconventional and edgy fashion sense in 1996 when he was appointed head designer at Givenchy. He was also one of the youngest fashion designers to win the British Designer of the Year which he won 4 times. McQueen had a long list of celebrity patrons including Nicole Kidman, Lady Gaga, Rihanna, David Bowie and Sarah Jessica Parker. After his death On 18 February 2010, Robert Polet, the president and chief executive of the Gucci Group, announced that the Alexander McQueen business would carry on without its founder and creative director.
"Mr. McQueen, as Anna Wintour, the editor of Vogue, observed in her address, was a man of profound contradictions. "There was no comfort zone with Alexander McQueen," Ms. Wintour began, noting that people could be delighted, repulsed and amazed by his fashion. Equally, he was capable of belligerent and impulsive behavior; he was famous for not showing up for appointments and grand events alike."
"At the close of the service, around noon, as rays of sunshine intermittently broke through from the dome onto the checkered stone floor, a lone bagpiper walked slowly toward the congregation, playing music from "Braveheart." He was followed by the choirs and the clergy down the center aisle, and was joined on the front steps of St. Paul's by 20 pipers. As the guests filed out, they stood and listened on the sides, with a crowd of people watching from the street below."